Industrial trucks, such as forklifts rely on intelligent sensors to accurately measure position, angle, speed, tilt, and lifting weight. These rotary angle and position sensors are designed to help save time in industrial operations, reduce human error during machine control, improve productivity, and above all else, ensure an increased level of safety. One of the most important sensors in industrial machine control today is the hall effect angle sensor for position measurement and operator input controls.
To implement accurate functions like lifting height, the tilt of the lifting mast, turning speed, and even fork positioning, companies like P3 America offer a wide range of precision angle sensors that meet a variety of applications and environmental needs. Hall effect rotary angle sensors are particularly ideal for these applications due to their high resolution, high accuracy, and absolute position reference.
Here, we're going to look at the biggest challenge that warehouses that rely on forklifts for material handling face and the benefits of implementing the use of hall effect rotary angle sensors to solve the challenge:
The Challenge
The width of aisles for many warehouses across the United States is being reduced to maximize storage space. Due to this, most manufacturers are adopting the latest technologies like rotary position and angle sensors to streamline material handling while ensuring safety and effectiveness in machine operation within narrow-aisle environments.
Most manufacturers, warehouse operators, and even forklift operators are looking to improve performance and productivity beyond what traditional forklifts that run on internal combustion engines offer. They are now turning to electric models that rely on smart sensors to detect steering position and the angle of the wheels at all times to ensure precision control of the forklift speed and direction as displayed to the operator.
The Solution and the Benefits
To solve steering positioning and wheel angle issues for warehouse lift trucks, a reliable and proven solution is needed to ensure the controller never oversteers. Rotary position and angle sensors can sense the exact position of the lift truck wheels. In this specific case, an absolute rotary sensor or an incremental rotary encoder would easily solve this challenge.
So, what are the real benefits of a rotary angle sensors, including Hall Effect rotary sensors?
High Accuracy
When it comes to ensuring smooth and safe movement control in lift equipment for warehouses, accuracy is critical. Hall effect rotary sensors are typically 12-bit resolution and can be programmed to any specific angle. They are an absolute position sensor in that position reference is not lost due to power cycling.

Durability
Hall-effect rotary position sensors can be easily configured to meet various application needs. These innovative sensors have a non-contact operation, allowing them to operate error-free and ensure a long lifespan and reduced wear. Additionally, rotary position and angle sensors can withstand harsh environments and provide long-term reliability despite working in severe conditions that include dirt, dust, fluctuating temperatures, and heavy vibration.

Application Flexibility
Hall-effect single and multi-turn rotary sensors can be used in a variety of motion control options. They are available in a wide variety of configuration options to ensure maximum application flexibility. To ensure reliability, these rotary angle and positioning sensors are housed in tough all-metal housings with additional environmental protection, ranging from IP54 to IP69K. Output options are also flexible to suit your motion control application.

Compact and Robust
Ensuring the proper positioning and angle of the steering wheel and wheels of a lift truck requires precision. Whatever the application, error-free functionality is crucial to ensure safe and effective operations within warehouse environments. Rotary position sensors like Hall Effect rotary sensors designed for accurate position and angle precision operations are compact in size. They use minimal installation space while providing robust functionality.

Customizable Options
Depending on the application, you can get a customized solution that best fits your rotary positioning and angle needs. You can decide on analog or serial output rotary encoders. For instance, analog output Hall Effect rotary sensors come in a variety of measuring angles, shaft diameters, and resolutions. An applications engineer like the specialists at P3 America can help you get a custom rotary sensor for your specific application.
Contact P3 America for Your Rotary Sensor Needs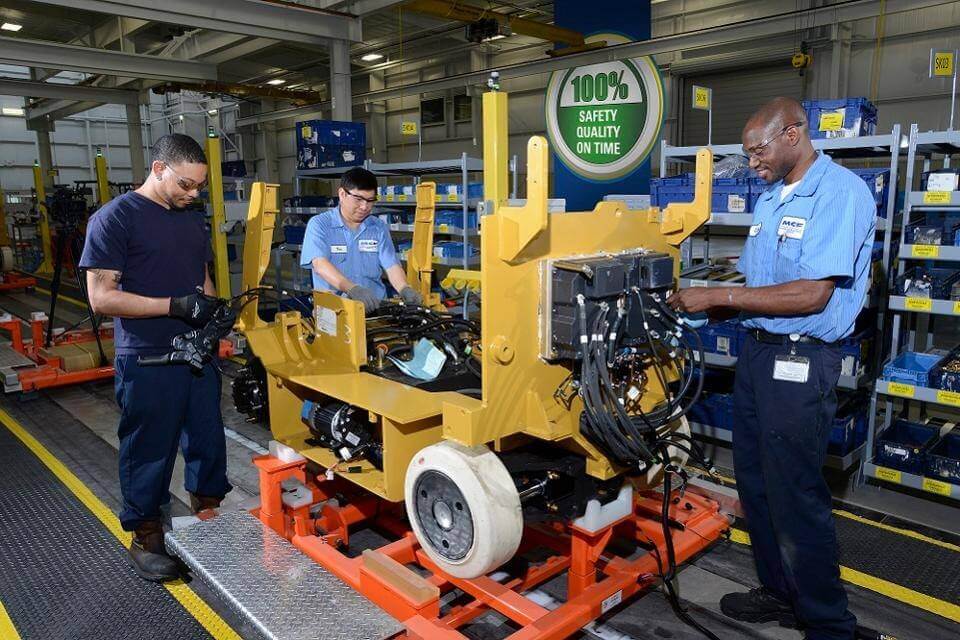 If you're looking to streamline motion control in your lift applications, start by consulting P3 America. We bring a full line of rotary position and angle sensors that are tested and proven to provide long-lasting and robust performance with outstanding durability for your forklift motion control needs. We guarantee quality and industry-best delivery times for even the hardest-to-find engineered components.
Work with us today to get the specific sensors of the best resolution, highest accuracy, and precision in the business. We can customize your Hall Effect rotary sensors or rotary angle sensors to the exact specifications of your project. Talk directly to one of our dedicated sales engineers to discuss your needs and enjoy superior OEM support and distribution support. We have extensive experience in custom-engineering solutions for your unique project.
P3 America understands that safety and efficiency are top priorities when it comes to manufacturing engineering components. Contact us directly via phone, email, or website to discuss your angle and rotary position sensor application needs.
Recent Posts
Systems involving motion, especially industrial processes, are tremendously complex. Designing an …

Joysticks are an essential control component for many types of machines and equipment. In indus …

By programming potentiometers specifically for your application, these components can be made t …